SWIFTLET'S TEAM – A Talented Software House
Swiftlet – Agile Software Development Bangkok
Agile Software Development Bangkok, Swiftlet is a bunch of pals working hard to become Thailand's most renowned and reliable agile software development company. Besides Art (our founder) the Swiftlet has three developers and a couple of QA engineers. However, we are GROWING, so if you are interested in joining Thailand's most exciting software development company, drop us a line!
Arthit "Art" Hongchintakul, Founder
A few years back, Art earned his master's degree from the University of Pennsylvania. Soon after, he took a job in Chicago with ThoughtWorks, one of the biggest agile software companies out there. In 2012, when he returned to Thailand, he knew that what he had learned, the skills he had developed in the United States, could be translated to Thailand. He knew what he had to do.
Swiftlet was Art's brainchild and, like a gardener, he loves watching the fruits of his labor grow. Just about every day, Art can be found drumming up big ideas for the future, hanging out with his friends (a.k.a. his co-workers), and molding Swiftlet into Thailand's best IT company.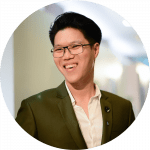 Sasit graduated from the Faculty of Business Administration at Kasetsart University in 2002. After getting his BA, he gained practical experience in managing his family business and taking part in a few exciting ventures, such as starting up a subsidiary of a billion-dollar parent company. His role in that job was to lay out the framework for the financial and accounting systems, perform financial research for executives, and organize the transaction information flow. Following those fun-filled years of professional work, Sasit went on to earn a master's degree in entrepreneurship at the University of California at San Bernardino.
Sasit believes that good products address the customer's problems as effectively as possible; everything else falls short of the mark. That's why Sasit is a part of Swiftlet: because we strive for the best solution to our client's problems, and we have a lot of fun in the process.
Anak Umpaivit, Project Manager, QA
Anak graduated from King Mongkut's University of Technology North Bangkok. Although he did not study specifically to work in IT, he was thrilled to take on the challenge offered by Swiftlet. Since joining the team, he has become fascinated by how much work can be automated and how much cost can be reduced because of it. In other words, he has discovered the power and glory of agile software development. With the tools he has at his disposal, he is confident that his work will always result in high-quality products. But, more importantly, the time it takes him to complete his work will always be measured in hours rather than days.
Puttipong Wongrak, Technical Lead
Puttipong graduated from the Faculty of Computer Science at King Mongkut's University of Technology North Bangkok, He became to the one part of Swiftlet since January 2016. Shortly afterward, He has learned a great deal about the software development and agile development principle. Now he is becoming our key staff, producing high-quality software to our clients.
Natthapon Detitsarawong, Project Manager, Consultant
Natthapon graduated from Kasetsart University, Faculty of Computer Science and Krirk University, Faculty of
Accounting, Natthaphon has experience in business consulting and performs a suitable accounting system for
client business. His role is to manage the Consult teams to design and perform the best implementation on Terebinth for clients.